A new initiative at Ocean Plastic Forum now allows for smaller donations to support our work and contributes to raising awareness of the urgent ocean plastic problem. Together with two Danish artists we have now published two beautiful and meaningful donation posters.
'Ocean Plastic' by Ida Holm
The beautiful poster 'Ocean Plastic' is designed by Ida Holm who owns the design poster company Taishō together with her boyfriend, Mads. The poster is sold directly through Taishō's webshop and 50 % of the turnover is donated to Ocean Plastic Forum.
By turning the used plastic bottle into beautiful art, we think the poster aligns perfectly with our view on ocean plastic as a valuable ressource rather than dirty waste.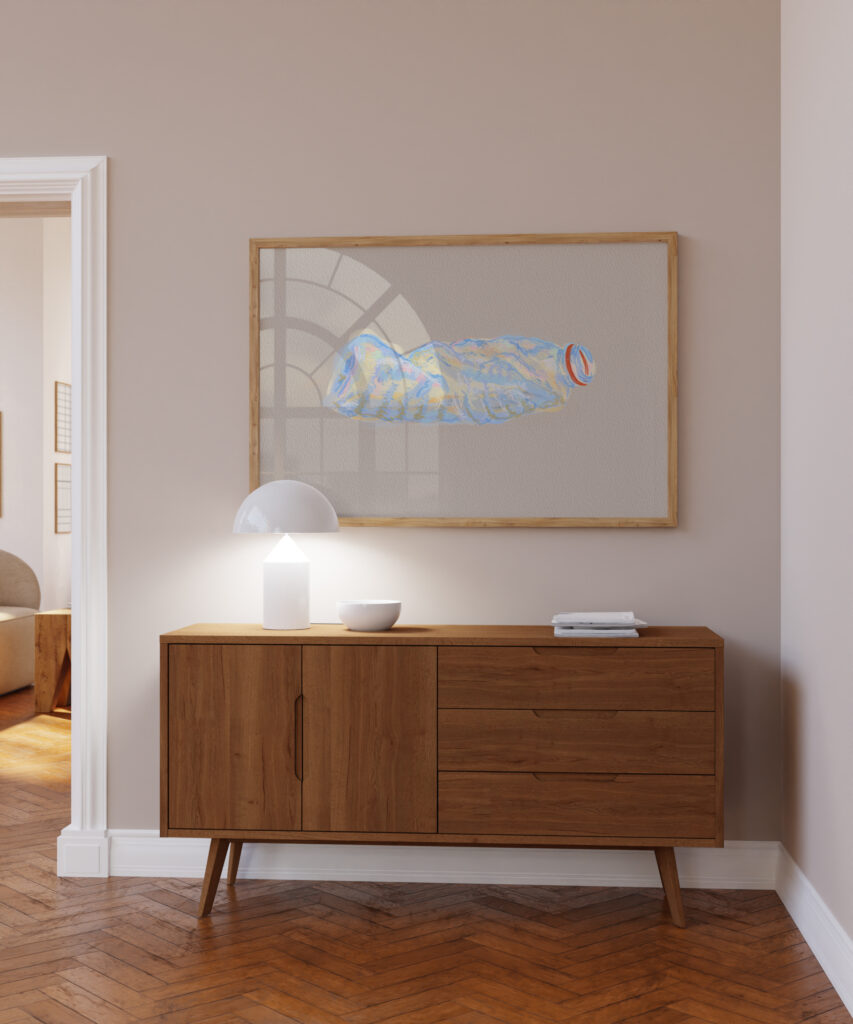 The poster is available in many different sizes and prices from 259 DKK. The poster can be bought on Taishō's website where it is also possible to buy frames.
Taishō, which is owned and run by Ida Holm and Mads Taiki, creates high quality design posters. Taishō is partner of "1% for the planet" and has several other donation posters in support of different NGO's.
'The Ocean in Our Hands' by Mirjam Jørgensen
The poster 'The Ocean in Our Hands' is a linoleum print by the artist Mirjam Jørgensen, which reminds us that we all have a personal relation to the ocean and that we need to take good care of it.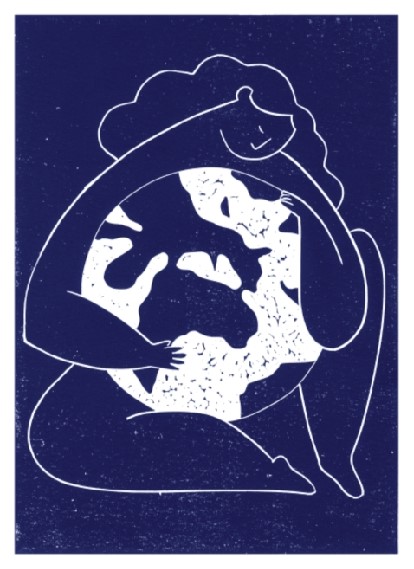 Mirjam often portrays women or other human figures in her art which was also important for her to include in this poster: "The poster is supposed to symbolise the personal relationship with the ocean. I have a close connection to the sea that I grew up with, and I would like to emphasise the importance of cleaning our oceans. That the responsibility is in our hands. The proportions are purposefully wrong: The human is gigantic and the world is small, because we have to take care of it."
All profits from the poster goes directly to support the work of Ocean Plastic Forum.
• Size: 50 X 70 cm (B2)
• Price: You decide (minimum 195 DKK per poster)
• Delivery included*
• Frame not included
*NB! Delivery only possible in Denmark.
A corporate gift with meaning
Many companies are increasingly choosing to replace the traditional gift basket with a donation gift. Through a donation gift, the employee can get the feeling of making a change – and for us, it truly does make a change.
With Ocean Plastic Forum it is now possible to give a donation gift while giving your employees a beautiful poster that can start conversations and highlight the importance of the ocean. Some companies even chooses to give a donation poster as a christmas gift for their customers.
Both posters can be delivered as corporate gifts. If it concerns a larger number of posters, Taishō is even open to make adjustments such as adding a logo or simple text to the 'Ocean Plastic' poster, to personalize the poster to your company's needs
If your company is interested in giving a corporate gift with meaning, please do contact us or Taishō directly.